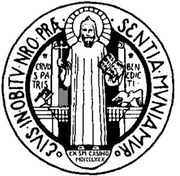 Last week I completed my oblate intake interview. Sister Mary Lou interviewed me one on one, reviewing my application and asking follow up questions. I had the goal to be as complete and thoughtful as possible in writing my application, in part so I wouldn't be tasked with writing a second draft.  The sister appreciated my thoroughness.
I believe Sister Mary Lou had six questions for me, but I distinctly recall these two:
What does it mean to be an oblate? I had answered his question in my oblate Q and A post, so I took my answer pretty much from there, saying that I'm not the best person to answer that question. I know enough to know that I would like to proceed, but I don't know what it means to be an oblate. Sister Mary Lou accepted that answer, stating that the next year of formation was about me learning what it means to be an oblate.
What was the greatest moment of God revealing himself to me? I had to take a while to think about this because I had never been asked this question before. I finally chose to go with the most recent revelation, and I described how God worked to develop Living Stones. (I share this story on the Missional Discipleship Groundswell Podcast.)
I had three take-a-ways from the interview:
I confirmed both both in my own mind and in my discussion with the sister that I can be a Benedictine-Wesleyan, without any conflicts.
I learned that the two pillars of Benedictine spirituality are community and prayer. Sister Mary Lou was pleased that I hit on both of those in my application.
One can be serious about their walk with God, and still have a great sense of humor. Before this interview I had seen the initials OSB after some names, and I had been unsure of what that stood for. During the interview, the sister provided me a schedule that had names with the OSB suffix and an OblSB suffix, and I asked her to explain the difference. OblSB stands for Oblate of Saint Benedict, a suffix I will be free to use after the year of formation. OSB stands for Order of Saint Benedict, the suffix the sisters use. "But we usually just say it means, "order some beer,'" Sister Mary Lou added. She's definitely not a Wesleyan 🙂
The next step will be the Orientation to Oblate Formation in August.
photo credit: beer studies via photopin (license)