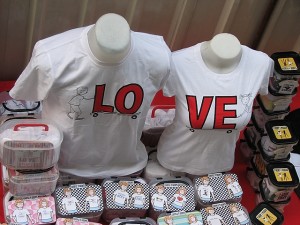 While we oblate candidates may have attended this formation class to learn about humility as a concept, I believe as much learning came through experiencing humility. I am not speaking of humiliation (that is a difference concept), but humility as being in a place and time where God is the center of all activity, and our role is to serve Him by serving others. While we all have our gifts, experience, strengths, and knowledge, and thus our place in service, we also all have our needs, immaturity, weaknesses, and ignorance.
For me, this evening began with dinner at the monastery with Sister Mary (PDF download), my sponsor. We filled ourselves with salad and conversation. We discussed her work in educating high school students in awareness of and protection from human trafficking, and I offered to make use of some of my connections to possibly open other doors.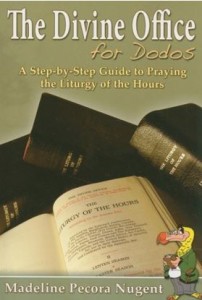 I brought her my recently obtained copy of The Divine Office for Dodos, and showed her the breviary app I had downloaded to help me learn to pray the hours. Sister Mary took a look and the book and said it would make a good reference. She saw the app had so many options she felt it was overload for someone just beginning. She suggested I go to St. Patrick's Guild and pick up a simple breviary, with just the morning and evening prayers.
Side note: The following day I went to the St. Patrick's Guild store to purchase a breviary, and found the three types. The full Prayer of the Hours in is four volumes; that was not for me. The simple book with morning and evening prayers was just as Sister Mary described, something that I could begin using immediately. The middle of the road book is the book of daily prayers, containing all the prayers, but not all the feasts and liturgies. I found myself trying to balance two values: stewardship and humility, as I decided which book to purchase. I knew if I bought the simple book, while I would get immediate use from it, in 6 months I would probably want to try the more complete book. I would then have purchased two, when I only need one prayer book. On the other side, I asked myself if I only wanted the complete book, against the advice of my sponsor, as an act of pride. I stood at the shelf debating for several minutes, until I noticed the book Benedictine Daily Prayer. This one being specifically Benedictine, is the one I chose, and is a complete book of daily prayers.
After dinner, everyone assembled in the chapel 15 minutes before prayer was to begin. As we are in Advent season, we would be singing a different Magnificat and an O Antiphon. Even the sisters wanted practice with the seasonal Magnificat. For those of us who grew up in different traditions, prayer service can be humbling, as we do not experientially know the order of service and the song melodies. An Advent service adds even more unfamiliarity, as there is more flipping between various sections of the liturgical book. Many of us oblate candidates humbly participated as best we could, and the sisters humbly served, as many of them interrupted their focus to come over and show us what page to turn to in the liturgy.
The evening's course took us through the Benedictine 12 steps of humility (chapter 7 of The Rule). The sisters described these at a ladder that we always work to climb, toward gaining an authentic view and expression of God and self. Here are the steps in brief and modernized.
"You place your need for God before your eyes, and don't avoid it."
"You let go of your own wishes and comfort, and imitate the saying of the Lord, I have come not to do my own will, but the will of him who sent me."
"You are accountable to someone for the love of God."
"When accountability is hard, and fidelity really costs, you hang in."
"When you get into a mess, you don't hide it from those who have a claim on your trust."
"You don't live in constant expectation of getting something you don't already have, and are grateful for what God has given you."
"You don't just pretend to be mature and self-accepting, but you really have come to that place."
"You follow the same rules as everyone, and don't exempt yourself from responsible adult behavior."
"You don't use your tongue as a weapon."
"You don't use humor at the expense of others."
"You speak kindly, carefully, honestly, clearly."
"You always manifest humility in bearing it in your heart, so it is evident in your prayer and daily life."
The steps were categorized in the following way:
Relationship with God (steps 1-2)
Relationship with Guides on the Journey (steps 3-5)
Relationship with Ourselves (steps 6-7)
Relationship with Others (steps 8-12)
The number of steps and the categories led to several comparisons and reflections. Among these, David Robinson in Ancient Paths,  says the 12 steps of humility parallel the 12 steps of AA. (hint for my students: Those of you in my Recovery and Deliverance course at Wesley Seminary may find me referencing Robinson's book.) I saw a parallel between the categories and the 10 Commandments, which I may incorporate into the Fall 2016 All-Church Spiritual Formation at Oakdale Wesleyan Church. We also wrestled with some of the old language of The Rule, which seemed to exclude the ideas of right confidence and the joy of laughter.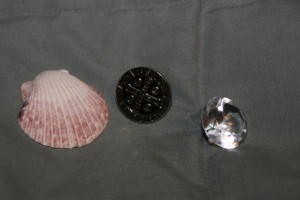 For our final prayer, we formed a circle around a lit candle that was placed in water. Everyone drew out some water with their hand (I wished I had my scallop shell for this), and then placed our wet hands on various parts of our body as we read this prayer of blessing. After the prayer, we were each given a "diamond" to remind us that humility is to form us into something precious and unclouded. We also received a Christmas gift of a Benedict book bag and some goat's milk soap.
Action Plan/Goals
Finish reading Humility Matters my Sister Meg Funk.
Do the study to see if the 10 Commandments as a rule toward humility actually holds up.
Learn to pray in humility: as I learn to use the book of daily prayer, and spend more time at prayer at the monastery.
Seek to live an authentic life, beginning with asking the Holy Spirit to reveal to me areas in which my life is not expressed in a genuine manner.
The next formation course is Benedictine Spirituality.
photo credit: Thailand, Bangkok: LO VE via photopin (license)