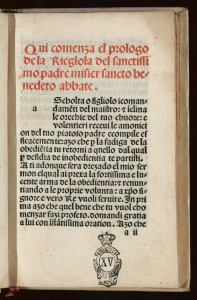 The homework we had in preparation for this class was to read the Prologue to The Rule of St. Benedict several times during the month. After we felt we had read it enough, we each were to pray, asking the Spirit to give us a word or phrase that would each bring to the session. Each person's word or phrase would be used as part of our prayer that evening. I brought the verb live.
As with other nights, we began the evening praying the evening hours with the sisters. At the end of the evening, Sister Mary Lou stressed to us the importance of making praying the morning and evening hours part of our discipline as oblates. This is something that I need to work on, as it was part of my original goals for this formation. The evening prayers included portions of Psalms 119, 139, and 56. The combination seemed to speak directly to my feelings regarding the recent Paris attacks.
Two sisters led the class portion of the evening. We listened to a song from Hosea, sung by Jesuit monks from Weston Priory, Vermont, a calling from God to come home to a new life. Then everyone stated their word of phrase that stuck out to them from the prologue. In addition to my verb "live," the words included: obey, pray, and listen, among others. We wrote each word down on a slip of paper, placed the paper in a basket, and placed the basket next to a large candle in the center of the room as a prayer.
As an introduction, the sisters told us that what we, that is all Christians, should be looking to deepen the call we received at baptism to follow the Holy One. The Rule is simply one means of that. Benedict brought The Rule into in a world of violence and disarray; we live in a similar world.
The prologue was broken down for us into nine values. These are different, in some cases, from The Benedictine Values I posted earlier.
Listen – Listen to the voice of God. I grew up being taught to listen to God through the Scriptures. While the sisters do not deny God's voice there, their emphasis was listening to God in the silence. They noted that "listen" and "silent" have the same letters.
Discernment – Learn to live more like Christ in our ordinary life. This includes listening to our conscience and even our bodies as we make decisions and judgments.
Discipleship – Scripture repeats this call in many ways. Arise from sleep. Heard God's voice. Do not harden your heart. Be taught. Run in the light. (Rom. 13:11; Ps. 95:8; Rev. 2:7; Ps. 34:12; John 12:35) This value reminded me of Living Stones Discipleship.
Yearning for Life – Our inmost desire has to be for God, to be with Him, and like Him.
Gospel as Our Guide – This value peaked my interest. If I were to ask nine Christians, "What is the Gospel?" I could very easily get nine different answers. Jesus died on the cross for our sins. The Kingdom of God is at hand. The whole Bible is the gospel. God loves you and has a wonderful plan for your life. ABC – Admit, Believe, Call. The sisters put the gospel into three phrases by God: "I am with you." "I love you." "Trust Me." I found this both refreshing and in alignment with the Gospel of Community, which I teach at Oakdale Wesleyan Church: I am with you = The Immigration of God. I love you = The Investment of Jesus. Trust Me = Integration of Life.
Awareness – Stay awake and notice God, and the things we both cherish and do not cherish. We should notice our afflictions because God's grace is with us in the afflictions.
Partnership – We partner with God. This is very much a biblical and Wesleyan thought, on working out our own salvation.
Conversatio – This initially I thought was a typo, so I put an "n" on the end to make it "conversation" in my notes. I had to cross out the "n." This is a Latin word meaning a constant turning and moving toward God. It is "living into one's baptism." I thought of it as everyday repentance toward God.
Steadfastness – This work does not happen over night. We have to continually work at it.
We spent most of the night in individual, partner, and group discussion over these values, and where God was moving on us individually in our discipleship.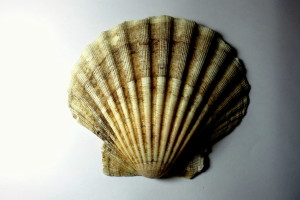 We ended the evening by listening to a song of a Gaelic blessing of peace. During the song, each of us picked up a scallop shell, as a symbol of pilgrimage. The shell would be used for drinking water and as a tool for eating. The scallop also has many grooves going to a single point, reminding us that all of our paths might not be identical, but we are going to the same destination. When I went up, instead of looking at the beauty or size of the shells, I chose the one shell that was already upside down, ready to be used as a vessel.
Action Plan/Goals
To not only share the Gospel, but to live by it incarnationally.
To listen.
To yearn for life with intentionality.
The next formation course is Humility: Cornerstone of the Rule.
Photo Credit:"Benedictus – Regula, Anno domini MCCCCLXXXXV die XXVII otubrio – 2472028 ib00310000 TMD MASTER IMG Scan00011" by Benedictus – Available in the digital library of the European Library of Information and Culture and uploaded in partnership (ID: ib00310000).. Licensed under Public Domain via Commons.
photo credit: Day 24 of 365 via photopin (license)