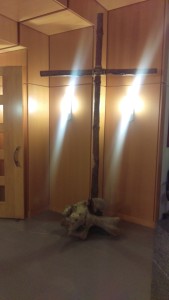 The Prioress, Sister Paula, taught the class "Benedictine Spirituality for Today." Following the homework: prayer, community, and hospitality were the topics of the evening, yet, as with the tri-unity of God, the three were one.
Our evening prayer consisted of a vigil, as one of the sisters had gone to be with the Lord, after residing with us here for 97 years. That prayer time caused me to change my pre-written answer for how I had experienced prayer in the community.
We began our class time with the prayer "Come and Pray as the Bell Tolls." Even though the sisters spend personal time in prayer, a key component to their prayer life is praying together, in unison, the Scriptures. Compared to when we started last August, even we oblate candidates have learned the cadence and to listen to others as we pray. We are not merely praying in unison, but in unity. This struck me because since we released our music leader at the end of the year, my congregation has been incorporating worship elements other than music, including praying and reciting creeds together aloud. Praying in unity being new to us, our congregation often sounds disjointed. I look forward to our corporate prayers leading us to  grow up in all aspects into Him who is the head, even Christ,  from whom the whole body, being fitted and held together by what every joint supplies, according to the proper working of each individual part (Eph. 5:15-16).
We spoke around the circle of our experience in prayer with the Benedictines. Many shared stories similar to what I had in various sections of my homework.  When we completed the cycle, Sister Paula felt no need to ask us again about community life and hospitality. Even though we entered with the subject of prayer, our stories intertwined with community life and hospitality. The three topics of prayer, community life, and hospitality became one Benedictine spirituality.
Sister Paula's most powerful statement came at the end, as she explained that neither the vowed vocational sisters nor we as oblate candidates were doing anything uniquely odd in our spiritual walk by following the Benedictine rule. Benedictine spirituality is doing ordinary things, extraordinarily well.
We ended class with Pope Francis' Prayer for the Jubilee Year of Mercy.
Action Plan/Goals
To be in unified and prayerful community with my family.
To continue to work on unity in prayer in my congregation.
The next course is Benedictine Prayer: Liturgy of the House and lectio divina