The mosquitoes that made me their blood bank during my most recent hiking trip gave me a strong reminder to pack insect repellent. Without blood, the female mosquito lacks the proteins necessary to produce fertile eggs. One could say that my blood was as valuable to them as it is to me; without blood there is no life. The tonsils or the appendix have never been considered the core of our being, but whether a culture centered the human soul in the mind, the heart, the stomach or the loins, blood still contained life.
God forbade the Hebrews from eating life blood. Only be sure not to eat the blood, for the blood is the life, and you shall not eat the life with the flesh (Deuteronomy 12:23). The Law contained other dietary restrictions, such as only eating animals that had both a split hoof and chewed cud, and only sea life with fins and scales. These dietary laws combined with other laws for cleanliness probably meant for a very healthy community in a time with no refrigeration or antibiotics, yet even the blood of approved animals was restricted from their diet. Blood had a sacredness to it, reserved for the making of covenants and forgiveness from God. A murderer was said to have the guilt of blood, and an innocent victim's blood cried out for justice (Isaiah 59:3; Genesis 4:10). The solemnity of blood carried through to the New Testament Christians who required their new Gentile brothers not follow the whole law, but to abstain from what has been sacrificed to idols and from blood and from what is strangled and from unchastity (Acts 15:29).
Imagine the shock when Jesus said, "I tell you the truth, unless you eat the flesh of the Son of Man and drink his blood, you have no life in you. Whoever eats my flesh and drinks my blood has eternal life, and I will raise him up at the last day" (John 6:53-54). Later, at the final Passover meal, Jesus calls the bread his body and the drink "the new covenant in [his] blood" (1 Corinthians 11:24-25). Jesus had not put a pound of his flesh into the bread dough, or bled into the wine, unlike Marvel's 1977 KISS comic book, in which members of the rock band mixed their blood into the red ink for the first edition. Jesus invoked a sacred symbol, blood, to illustrate the sacredness of his coming death.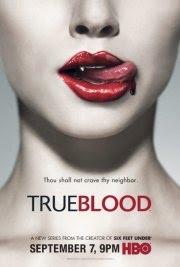 Despite calls for donations from the Red Cross, the value of blood has diminished in our society. I do not have the medical training to know if eating blood is unhealthy, but I have always preferred my meat well done. I do know that diseases, such as malaria, hepatitis, and HIV can all be transmitted through the blood. Medical professionals take special care not to become contaminated with any bodily fluids, but especially blood. Blood, which we need to live, can become a source of death, and something to be feared. Our fascination with vampires has also depreciated blood's sacred power. Consider that for the vampire, the taking of blood is usually an act of violence, lust or desperation. Vampire blood contaminates, turning the recipient into the undead. Blood never cures a vampire, it only serves to continue their state of undeath. Jesus' blood is different.
Everyone needs blood, within for biological transportation, without for spiritual transformation. Without the shedding of blood there is no forgiveness (Hebrews 9:22b). We take Jesus' blood not as an act of violence, but accept it as a willingly offered gift. Jesus sacrificed for [our] sins once for all when he offered himself (Hebrews 7:27b). Jesus' self sacrifice was acceptable because he is pure. You were not redeemed with perishable things like silver or gold from your futile way of life inherited from your forefathers, but with precious blood, as of a lamb unblemished and spotless, the blood of Christ (1 Peter 1:18-19). Jesus' blood is efficacious for our cleansing. They have washed their robes and made them white in the blood of the Lamb (Revelation 7:14). The law requires that nearly everything be cleansed with blood (Hebrews 9:22a).
Can we fathom the superiority and sacredness of the blood of Jesus? My blood might help reproduce the next generation of mosquitoes. Day after day every priest stands and performs his religious duties; again and again he offers the same sacrifices, which can never take away sins (Hebrews 10:11). How much more, then, will the blood of Christ, who through the eternal Spirit offered himself unblemished to God, cleanse our consciences from acts that lead to death, so that we may serve the living God! (Hebrews 9:14)
"For my flesh is real food and my blood is real drink. Whoever eats my flesh and drinks my blood remains in me, and I in him" (Jesus, John 6:55-56)