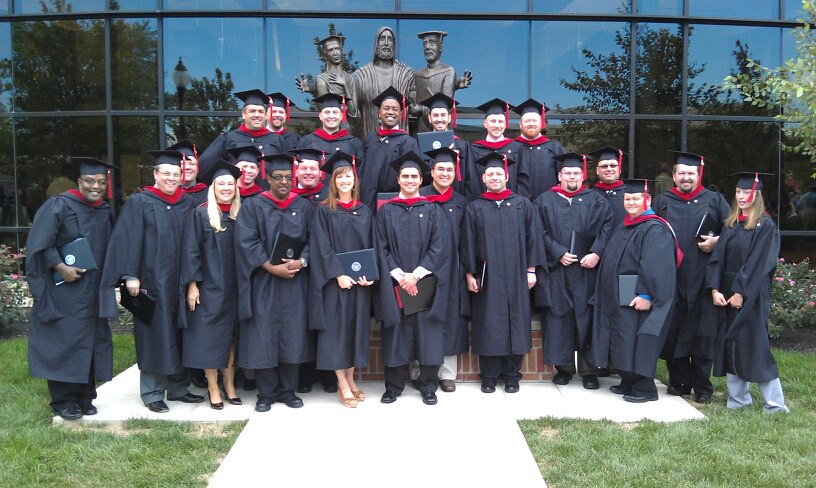 Student Testimony by Rev. Paul Tillman
Wesleyan Seminary at Indiana Wesleyan University Commencement
August 11, 2012
As a pastor, this is the largest congregation I have ever had the opportunity to address, and the Provost has only allotted me two minutes!
[GRIMACE toward the Provost]
 Really?!
Many of us entered our program to learn skills, in order to better fulfill our calling, but we entered more than a classroom. First, we found excellent professors who took an interest in us beyond just academics. They are friends, brothers and sisters in Christ, and mentors, that pray with us as well as teach us. Second, our lives and our churches became both our laboratories and sacred ground where we, with God working in us, work out our salvation in fear and trembling and help others do the same. Lastly, in the cohorts we found more than study-buddies, but life-long friends and co-workers from around the globe, who teach and encourage each other. My cohort shared a miracle healing and pregnancy, and continues to share a cancer diagnosis. If you have not yet taken the opportunity, I hope you will go see the under construction Wesley Seminary building. It will one day be a useful tool, but even now it is a symbol and reminder of a concept that our faculty and administrators knew and now we know, that our seminary, like our families, our churches, and the Kingdom of God, is not built by connecting brick to brick, but life to life to the Way the Truth and the Life.
Today we get to a add line on our resume that declares we stayed up late, read and wrote many words, sacrificed quality time with those we love, and we learned the skills. Congratulations are appropriate, but honestly, I hope none of us did this simply for the line on the resume. Today, let all of us graduates, as well as family and friends who partnered with us, declare this: We are better prepared and determined in the mind, imagination, and heart, to go in the power of Christ, to make, baptize, and teach disciples, to build the Kingdom of God, from the youngest generation to the oldest, across ethnicities and cultures, across socio-economic levels, starting from Marion, Indiana and reaching to Papua New Guinea.
©2012 Paul Tillman