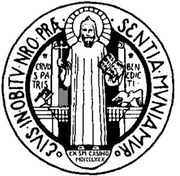 I have begun the initial application process of becoming an Oblate of St. Benedict. One of the questions I investigated before starting this process was how the Benedictine tradition aligned with my own Wesleyan-Methodist tradition. I found several important parallels and one major difference between the two traditions.
First, both traditions have an emphasis on personal holiness and Christian perfection, in the biblical sense of maturity. Joan Chittister, O.S.B. (1993) in her work The Rule of Benedict: Insights for the Ages writes:
"We are capable of choosing for God in life . . . The God-life, Benedict is telling us, is a never-ending, unremitting, totally absorbing enterprise. God insistent on it; so must we be . . . It is not perfection that leads us to God; it is perseverance," (p. 65) and "If you recognize the presence of God in life, you will soon become more and more perfect. But this perfection is not in the twentieth-century sense of impeccability. This perfection is in the biblical sense of having become matured, ripened, whole" (p. 74).
John Wesley in A Plain Account of Christian Perfection writes of the mature Christian:
"They are not perfect in knowledge. They are not free from ignorance, no, nor from mistake. We are no more to expect any living man to be infallible, than to be omniscient. They are not free from infirmities, such as weakness or slowness of understanding, irregular quickness or heaviness of imagination," but instead "A Christian is so far perfect, as not to commit [intentional] sin. And as they are freed from evil thoughts, so likewise from evil tempers."
These reflect the Scriptures (Eph. 4:13, Matt. 5:48).
Second, both traditions also emphasize holiness in action as a social good. Joan Chittister, O.S.B. (1993) writes:
"It is not enough, Benedict implies, simply to distance ourselves from the bad. It is not enough, for instance, to refuse to slander others; we must rebuild their reputations. It is not enough to disapprove of toxic waste; we must do something to save the globe. It is not enough to care for the poor; we must do something to stop the poverty. We must be people who bring creation to life" (p. 24).
Christy Lipcomb (2009) in Holiness for the Real World writes that "social holiness is a dance between confrontation [of sin] and grace . . . Jesus sends us to preach [and] to heal" (p. 52, 55). In the same book, Dr. Jo Anne Lyon writes that to transform our world we must overcome the evil "of consumerism and selfishness" which results in a long list social problems (p. 75). These reflect the Scriptures (John 17:13-19; Rom. 12:2, 14-21; 1 John 5:4).
Third, both traditions emphasize accountability. Joan Chittister, O.S.B. (1993) writes, "The fifth rung of the ladder of humility is an unadorned and disarming one: Self-revelation, Benedict says, is necessary to growth" (p. 69), this being her interpretation of The Rule of St. Benedict chapter 7. "The fifth step of humility is that we do not conceal from the abbot or prioress any sinful thoughts entering out hearts, or any wrongs committed in secret, but rather confess them humbly" (The Rule). Likewise, the rules for and questions posed in John Wesley's Methodist Societies, Classmeetings, and Bands Societies (detailed in the article "John Wesley's Accountability Discipleship Groups") show the importance of accountability for those in Wesleyan-Methodist tradition. These reflect the Scriptures (Jam. 5:16).
Lastly, both traditions emphasize prayer. Joan Chittister, O.S.B. (1993) quoting Abba Agathon writes, "I think there is no greater labor than that of prayer to God" (p. 75). John Wesley in A Plain Account writes:
"For indeed he 'prays without ceasing;' at all times the language of his heart is this, 'Unto thee is my mouth, though without a voice; and my silence speaketh unto thee.' His heart is lifted up to God at all times, and in all places. In this he is never hindered, much less interrupted, by any person or thing. In retirement or company, in leisure, business, or conversation, his heart is ever with the Lord. Whether he lie down, or rise up, 'God is in all his thoughts:' He walks with God continually; having the loving eye of his soul fixed on him, and everywhere `seeing Him that is invisible."
These reflect the Scriptures (1 Thess. 5:17).
One marked difference between the two traditions is regarding abstaining. Joan Chittister, O.S.B. (1993) writes:
"To forego a thing completely is to prepare to forget it. If I never eat another piece of chocolate, I may forget all about chocolate, but I may also soon substitute something even more dangerous for its taste: drugs, consumerism, a hardened selfishness. To do something commonly but to do it in right proportion, on the other hand, is to win the struggle with it every day. To have one handful of salted peanuts, one piece of chocolate, one glass  of wine in the midst of plenty, one car in a culture that counts its wealth in two-car garages, now that is mortification. . . What he [Benedict] cares about is that we control them rather than allowing them to control us" (p. 121).
The Discipline of The Wesleyan Church states in its membership commitments:
"To demonstrate a positive social witness by abstaining from all forms of gambling and by abstaining from using or trafficking (production, sale or purchase) in any substances destructive to their physical, mental and spiritual health, such as alcoholic beverages, tobacco and drugs (other than proper medical purposes of drugs) . . . Christians are to regard their bodies as temples of the Holy Spirit. While no "thing" of itself is sinful, the Christian should avoid the use of anything which would not help build the fellowship of the church, would not help the believers to realize their full potential in Christ, or which would enslave them. In the light of the scientific knowledge of our day concerning the actual and potential harm of these substances, total abstinence is more in keeping with these biblical principles than is moderation." (265.4).
However, this commitment should not be taken separate from the paragraph that immediately proceeds it.
"[These items] represent historic, ethical and practical standards of The Wesleyan Church. While it is hoped that our people will earnestly seek the aid of the Spirit in cultivating a sensitivity to evil which transcends the mere letter of the law, it is expected that those entering into Covenant Membership shall follow carefully and conscientiously these guides and helps to holy living" (260 emphasis mine).
Admittedly, there is not a one to one parallel between the items Chittister lists to use in moderation (such as a piece of chocolate) and the items TWC chooses to abstain from (such as alcoholic beverages). Regardless, I believe the difference in principle remains. I believe a relevant Scripture to this issue is 1 Cor. 6:12-20, which states we should certainly abstain from sin, and as for the other things weigh if they are beneficial or would master us. This sometimes becomes difficult to codify in membership commitments. An overweight person may not have a problem receiving the health benefits of an occasional glass of red wine, but may be mastered by chocolate. An alcoholic may gain the health benefits of an occasional piece of dark chocolate, but be mastered by wine. All Christians should want to maintain a good witness, not violate their conscience, and not want to cause another to stumble (Rom. 14:20-23; 1 Cor. 10:31-33). Traditions are left to decide whether they will simply ban certain things, or do the more difficult work of discipleship whereby one learns self-control (Gal. 5:16, 22-26), which includes both moderation and abstaining depending on the circumstance.
References
Benedict. The Rule of St. Benedict. Meisel, Anthony C. & del Mastro, M. L. translators (1975). Doubleday: New York, NY.
Black, G., Cady, D., L., et al (editors). (2012). The Discipline of The Wesleyan Church 2012. Indianapolis: Wesleyan Publishing House.
Bounds, C., Garlow, J., Lipscomb, C. & Lyon, J. (2009). Holiness for the Real World. Wesleyan Publishing House: Indianapolis, IN.
Chittister, Joan D., O.S.B. (1993). The Rule of Benedict: Insights for the Ages. The Crossroad Publishing Company: New York, NY.
"John Wesley's Accountability Discipleship Groups" retrieved from http://www.goforthall.org/articles/jw_dscplshp.html
Wesley, John. A Plain Account of Christian Perfection in The Works of John Wesley (1872 ed. by Thomas Jackson), vol. 11, # 29, pp. 366-446. Retrieved from http://wesley.nnu.edu/john-wesley